♥waking up sloooowly...cuddling with the minis and easing into the day.
♥lunch with the witches...homemade tomato basil soup with goat cheese and croutons hot out of the oven...energy work and emotional work and a trip to her little library.
♥my view as the day drew to a close...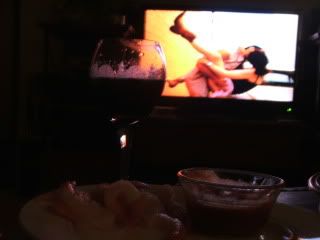 my guilty pleasures...menage a trios wine (grapes from three reds), seafood and Weeds on the TV...there were also fuzzy socks involved and a cat on my lap but they ended up on the cutting room floor. ~sigh~ oh, what a night.