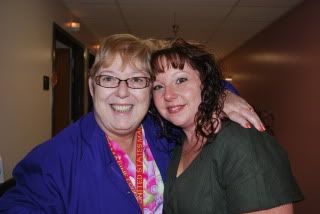 That's my Glo Bug. For her and I, it was love at first sight. It took a while for it to make sense but then we realized that being red headed Geminis...how could we NOT love each other? She was a few years my senior and time after time I tried to shove her into the maternal role. She wouldn't have anything to do with it. She had her own idea of who she wanted to be in my life. She was my hip, stylish, sassy slang guru. She was an inspiration and a loving kick in the ass just when I needed it most and wanted it least. She was a British babe with an adventurous life and a love story to envy. She was my friend.
About six months ago, we had an intense discussion about end of life issues and decisions. It didn't strike me as odd since we worked together and dealt with these things on a regular basis. She shared with me her personal preferences, and I disagreed voraciously. She defended her stance and we agreed to disagree. Her great love story had ended with the death of her husband and she was ready to be with him again. Although she would never purposefully end her life, she was anxious to join him. We had the typical discussions about spiritual beliefs and the big ole "what ifs." She was adamant and had total faith in what she knew the afterlife held for her. She smiled whimsically when she described it in terms of a movie we both loved: The Ghost and Mrs. Muir. The main character falls in love with an old sea Captain's ghost who lives in the house she buys. She lives her whole life loving him but living her life fully. It was the final scene that Glo was talking about...where Mrs. Muir is aged and sitting in a chair beside the fire. She has a book or a cup of tea in her wrinkled hand. You see her lower it and the object slip to the floor and you know her life has come to its end. Then you see her hand raise up, a much younger version of that hand...and it meets another. You see the distinguished Captain standing there with her hand resting on his and then you see her youthful face full of love. There are smiles and they turn and walk away together. There is a difference in Glo's story. Her love takes her in his arms and they dance. She even knew the song he'd sing to her.
At Last (by Etta James)
At last, my love has come along
My lonely days are over
And life is like a song
Oh, yeah, at last
The skies above are blue
My heart was wrapped up in clovers
The night I looked at you
I found a dream that I could speak to
A dream that I can call my own
I found a thrill to rest my cheek to
A thrill that I have never known
Oh, yeah when you smile, you smile
Oh, and then the spell was cast
And here we are in heaven
For you are mine
At last
I'm missing her already, my Glo Bug. I'm listening to her song and there are tears...but don't get me wrong. I'm crying for ME not for her. I know she is exactly where she wants to be...At Last.